BALTIMORE ORIOLES TEAM ISSUED POSTCARDS
This web site has been created to keep collectors informed of the latest postcard issues, as well as other Oriole postcards issued in the last 53 years that are just now being discovered. The Orioles are selling their "Team" sets and their "Alumni" sets. You will have to contact the team for current prices. The address is: Baltimore Orioles Catalog, 333 West Camden Street, Baltimore, MD 21201-2435. You can also telephone: 888-624-2473.
New Discovery - 1958-1960 Thin Paper - Jim Gentile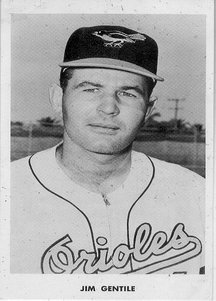 Click HERE to see the 2016 Oriole Postcard issues (as of January 03, 2017).

Click HERE to see the 2015 Oriole Postcard issues (as of December 23, 2015).

Click HERE to see all 2016 & 2017 Orioles and 2016 Ravens Pocket Schedules issued (as of September 30, 2016).
Background on Oriole player postcards.
My want list of Oriole postcards.
RELATED LINKS
Contact me at:
ed.allan@verizon.net

Send me your email address to be nodified of updates to this WEB PAGE